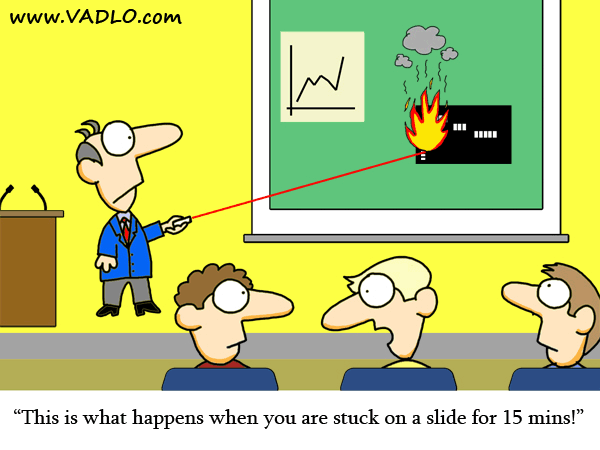 http://vadlo.com/cartoons.php?id=66
Hello everybody, this week I am posting a bit late because I had the flu, and well, working on my computer was the last thing I wanted to do. Last Friday, we had a Lab Meeting and it got me thinking of those things that I believe to be utterly important when doing and oral presentation but that get neglected so often. So here they are, 5 things to keep in mind when preparing your speech and the presentation itself:

1. Know your audience

This might seem very obvious, but let us go back to the meeting we had last Friday: we have a new student in the lab and she has very little (if any) previous knowledge of what each person is working on. The person presenting jumped immediately into results, with no intro whatsoever and the poor new student was inevitably lost. So, knowing your audience refers to how much background info should you be giving your audience and the extent of details or vulgarization that you should be aiming for. It's not the same to present in a wide subject conference than in tiny focused symposium.

2. Use your tools

This is not only referring to using the pointer, although that is quite important. There are several presentation softwares out there, and probably all of you know of PowerPoint and Prezi at this point. Whichever your software of choice, be sure you are using all the tools it gives you such us emphasis tools, magnifying tools and even transitions. Sometimes you will have a very dense figure to present; instead of just leaving it there try to bring the attention to what you really need of that figure with any of these tools. It will make your audience follow your presentation better, assuming off course that you know how to use them. At the same, don't overuse transitions. Simple and clean is best, in my own opinion.

3. Cite your sources

I have to admit, people not citing their sources in introductions bothers me a lot. If it is not your work, you should always give credit where credit is due. That said, be consistent all through your presentation with the formatting of references and in general all writing should be kept in a consistent manner.

4. Figures and contrast

When you are going to present in a new venue, you can't really predict the quality of their projector. You know however, that particularly with images such confocal microscopy, color will seem almost always, considerably paler, One thing to avoid this is to change the contrast of the image. Now, keep in mind I am saying to change it for the presentation and to do the same modulation of contrast in all your pictures, not just the ones that are convenient for your research. This is not acceptable and it is practically forcing your data.

5. Respect the time

As people do more presentations I notice they dismiss practicing their presentation on the basis that they are comfortable with what they are going to say. That might be so, but are you using your time? Are you extending too much? Always be conscious of the time you are been given and stick to it as much as possible. In a lab meeting for example, keep in mind that, no matter how interesting your data is, people also have to go back to their experiment; if you take one hour instead of half people won't be very pleased. Check what things can be omitted, what info you could put at the end, in case someone wants further details, do we really need to see the 24 blots that didn't work?

Those are just 5 things that I wanted to mention, but off course there is a lot more. What are your pointers on this subject? Let me know in the comments. In the meantime, keep working on good science.